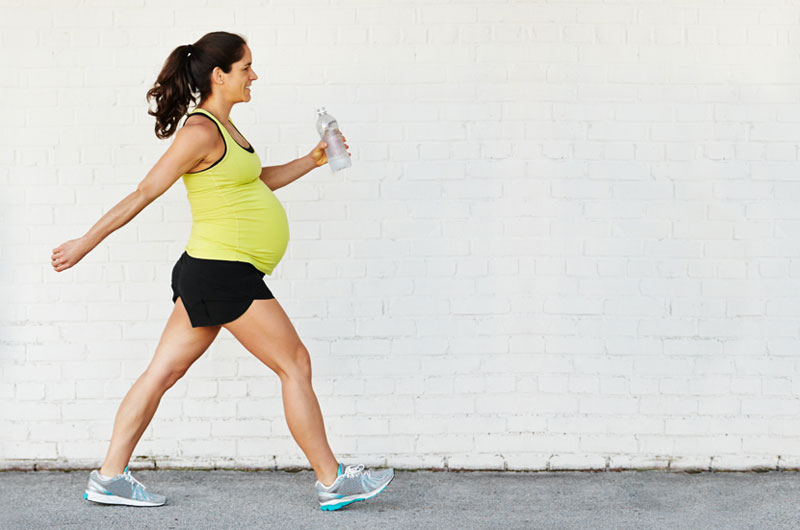 When it's too costly or inconvenient to make it to a prenatal workout class, pregnancy exercise DVDs can be a fantastic solution. There are a variety of products on the market, but here is a review of a few of the options to help moms-to-be stay in shape and prepare for labor and delivery.
The Divine Mother Prenatal Yoga Series
Yoga for pregnancy is an excellent way to stay in shape, develop flexibility and lower stress in pregnancy. The Divine Mother Prenatal Yoga Series with Anna Getty is based on Kundalini Yoga, and is both a relaxing and invigorating yoga workout. Easy to follow, without undue repetition, and with plenty of stretching, this DVD can almost be done entirely with the eyes closed, it's so relaxing.
While it lacks a section on Kegels, the typical pelvic floor strengthening exercises pregnant women are encouraged to perform, the squats used during a modified Sun Salutation section and in other sections serve as a more pleasant way to achieve a similar objective.
Contributing to the popularity of this workout is the amazing Asian-fusion soundtrack, details of which are included in the extras section of the DVD. The music not only makes for a great yoga session, but could be easily added to a birth playlist, or just for listening to in the car.
The only downside of this DVD is that most of the closing meditation is done in easy pose, with only a short stint done lying down in total relaxation. However, traditional yoga lovers will embrace this one—a must have.
Leisa Hart's Fit Mama Prenatal Workout
Leisa Hart combines a salsa dance prenatal aerobic workout with a yoga fat burn, labor and delivery prep session, and a stretch and relaxation wrap up. More mainstream aerobics-class than yoga, it lacks the meditative and relaxing quality of the Divine Mother Prenatal Yoga Series, but the salsa workout certainly is fun.
Hart's aerobic salsa dance is simple enough to master in a couple of tries, but complicated enough to keep the exerciser's mind more on the moves and less on the fact that she's exercising (always a plus). Most moms-to-be will probably find it too taxing to do both the salsa dance and the yoga fat burn followed by the floor exercises, but one or the other serves just as well for a good prenatal workout.
Warning: The yoga session is anything but relaxing with a little too much repetition. The abdominal and pelvic exercises call for a lot of self-imposed resistance and tons of Kegels. These types of exercises can be difficult to master and may leave the viewer wondering if she's doing it correctly.
Still, the DVD offers a wide variety of exercises and provides yoga in a mainstream setting. Plus Hart's peppy attitude and comments are good at keeping the spirits up.
Shiva Rea Prenatal Yoga
This pregnancy yoga DVD offers a variety of different postures, with three models to follow depending on trimester. The postures feel good, and there is a focus on pelvic floor strengthening. It also has a long, satisfying relaxation section at the end of the workout.
The downside to this workout is that it calls for a number of props in order to properly do the postures, especially for women in the second or third trimesters. For those who don't like dragging a chair over, or modifying everyday household items into a block and a strap (a jack-in-the-box and a rolled-up towel, perhaps?), it invites poor form, injury, or a less satisfying workout.
For healthy women experiencing a normal pregnancy, prenatal workout videos, including prenatal yoga, are an excellent way to maintain health and wellbeing during the duration of pregnancy. Of course, pregnant women should check with their midwife or doctor before starting or continuing any exercise program.